Ibar Special Needs Trust Advisors
Specialized support services for the special needs community. Ibar assists with the establishment of an SNT as part of your:
We provide advisory services for special needs trusts (SNT) incorporated as part of a personal injury litigation and estate planning for families with a loved one who has special needs. We have over 30 years of experience helping individuals and families with their special needs trusts and estate planning services. Our trust advisors work closely with you to protect your loved one's public benefits to ensure they maintain the best quality of life possible. We are a family owned and operated special needs advisory firm based in California with a team of experienced SNT advisors to guide you through the process of incorporating a special needs trust into your estate plan. Choosing a special needs trust firm is important and, at Ibar, our number one goal is to make sure your loved ones are safe and well taken care of. Contact Ibar, California's leading special needs trust advisory firm, today.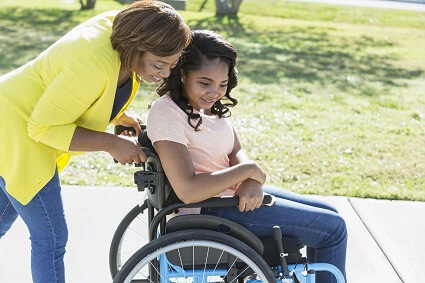 SNT Advisory Services
A Special Needs Trust (SNT) preserves an individual's Medicaid (Medi-Cal) and Supplemental Security Income while allowing them to receive various quality-of-life services, items and living accommodations through the allocation of the SNT funds.
Testamentary Trust Planning
Parents and Grandparents who have a child or grandchild with a disability often incorporate a Special Needs Trust as part of their estate plan to better insure that their loved one will receive the protection they need and deserve.
We Are Your Partners
Ibar Special Needs Trust Advisors act as the liaison between the Special Needs Trust Beneficiary, their family, the trustee responsible for investing the trust funds, vendors, care providers and public benefits agencies to coordinate and to insure that the Beneficiary receive the services and items which they require and are entitled to.
Testimonials
We have been with Ibar for 20 years. Over the years we have gotten excellent service. They are kind, professional, and go over and beyond making sure that things get taken care of for my son. I appreciate that I can count on them to respond to my questions quickly and also explain things that can be especially complicated with a trust. They are also very easy to work with.

We have been with IBAR for 10 years. Emely Damiells had done an amazing job. Emely is kind, professional, and has always gone the extra mile to make sure my son has everything he needs. She is always there to answer all my questions and concerns. I will forever be grateful for her willingness to support me and my son in any way she can. Thanks Emely. I highly recommend IBAR!!!

Ibar has been supporting my grandmother and me since 1997. My experience with them has been nothing short of amazing. They work efficiently and effectively to handle all of my needs.

Ibar has overseen my son's special needs trust for 19 years. I have found them to be professional, efficient, trustworthy, reliable, and kind. They always understand the difficulties of having a special needs child and will always try to help the best way they can. I HIGHLY recommend them!!

Ibar has been instrumental in helping to keep my severely disabled son at home with good quality of care. I am able to renovate and modify our home for his needs as well as give him the best therapists and services I can find. Also, everyone at Ibar has been wonderfully compassionate and supportive regarding the difficulties and issues we face caring for a disabled family member.  It has been a blessing and a comfort to be able to have my boy close to me amidst everything we have to contend with.

I am grateful to Ibar for the help they've provided in looking after our son's needs for the past 22 years. It's been a privilege to have Ibar by our side, providing stability and dignity to my son and our family.

One can expect a quality and dependable service from friendly and caring advisers. Our family has been with the company for over 17 years for my daughter and our adviser has been so helpful in meeting our daughter's needs.

They really care about others. Professional, kind, intelligent, helpful, open-minded, non-judgemental, honest. I just love the ladies in the office! They know how to make a person feel good and welcomed. These are MY girls!!!

I have been working with Ibar for the last 19 years. They have provided me and my family with any and all needed assistance, even some I didn't know was needed or how to obtain it. Ibar goes above and beyond to ensure proper care is provided to my son while assisting me with things that would otherwise take time away from my son. They go out of their to ensure they are available for assistance and when they aren't, respond promptly by phone or email.

Absolutely a pleasure to work with! Ibar Special Needs Trust Advisors has worked closely with our family for the past 16 years, and I wouldn't have it any other way. They are very protective of their special needs children as well as their adult clients. They are timely, responsive, personable, and attentive and has always made us feel involved every step of the way. The process of our son transitioning to adulthood with a special needs trust was as seamless as could be—we worried for years that it would be a long drawn out event, it was actually quite the opposite, it was as easy as making a phone call to have a few questions answered. Questions are handled with care and detail. My experiences are with Stan, Genora, Carlos and the fabulous Emily...best advisors you could ask for.

I have been with Ibar for 27 years. They oversee my trust and work with the banks which invest the funds and manage payments to make sure there are no problems with the court or Medi-Cal. The people at Ibar are very helpful and knowledgeable. My trust advisor has always been available to help me or talk with me and explain things that I do not understand.

I have been working with Ibar since 2004. I am grateful that Ibar has been able to take a lot of stress off my shoulders. They are my right arm in managing my son's financial needs. One of the most important ways Ibar assists me is in coordinating the hiring of outside caregivers. Ibar is always advising me on what and how to purchase items for my son. I have enough to do in caring for my son and making his life as enriched and comfortable as possible. I feel comfortable that if I was not able to care for my son, Ibar would make sure that his needs are met.

I have had an amazing relationship with everyone that works for Ibar. Emily is my contact at Ibar and she makes me feel like a real person. They help me take care of my sister and make the right choices for her, but they always take my feelings into consideration which means more than I can put into words. Highly recommend them!!